Just in case you haven't heard me rave about them… We have the BEST COLOR GUARD EVER!!! Seriously, what a wonderful group of girls that we had at band camp, honestly, even though I say this every year, this group is the BEST!
This year, we're so excited to have been invited to do the Main Street Parade in Disney World!!!
Routines:
CLICK HERE FOR THE GOOGLE DOC with the routines listed.
Here's a photo of them last year at band camp, after practicing their feature song in this year's show. Somehow, I don't have a picture of this year's camp!! If you have one, please send it to me!! julie.kelley@wpsk12.com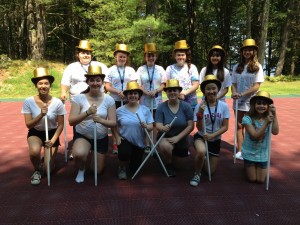 If you're looking for the schedule of performances, or more information, please check the High School Marching Band website.